Momento Cam Blog
Latest Momento news and updates
Get Excited - This Is The New Momento Cam Website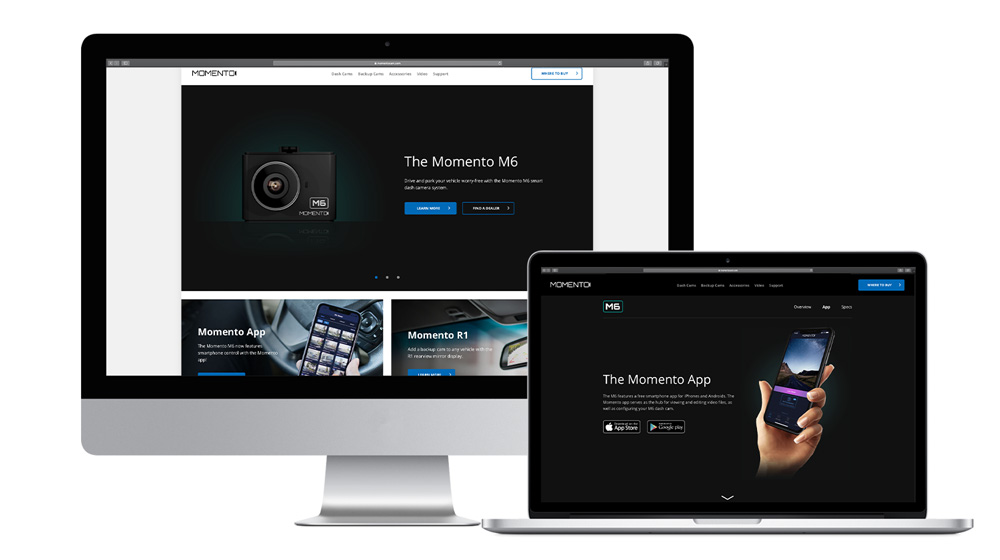 After months of hard work by our design and development teams, we are proud to announce the launch of the newest version of our Momento Cam website. From January to April 2019, the design and development teams collaborated to improve our website, create a user-friendly interface, provide more information on each of our products, and make it all look sick!  We at Momento are particularly thrilled about the new Momento M6 page: check it out!
Our new site features more information than ever about our entire collection of dash cams, backup cams, and accessories all on separate product pages. There's additional video content included on each page so you can see the view your Momento cam will give you!
You're already looking at one of the sites most exciting additions: the Momento Blog. Check back here regularly for exciting content about our dash cams and related industry topics.
Launch of the Momento M6
In addition to improving the former site, we created space for our new product launch. The Momento M6, the smartest version of our dash cam, gives you extra eyes on the road. It doesn't matter if you're driving through a low lit tunnel, or towards a sunny California beach, the Momento M6 captures clear footage of every incident along the way.
Ever thought about how nice it would be to download your dash cam footage right to your phone? The wi-fi capabilities of the M6 paired with the Momento app allow you to do just that.
The IC6 Interior Camera is the perfect accessory for your new Momento M6. This device is especially relevant in the age of ridesharing. If you're the driver of one of the 15 million Uber trips completed daily, then add on the IC6, created exclusively to connect with the M6, and your car security dreams will become a reality!
With our smart storage tech, not only will your vehicle be more secure, but your M6 footage will be safe as well. When your sim card begins to overflow, the M6 will start removing footage, BUT instead of deleting chronologically, it will begin by ridding your sim card of "uneventful footage." Pair this function with the fact that you can seamlessly save footage from your M6 to your mobile device, and your dash cam footage becomes virtually indestructible.
Did we mention our dash cams allow for an upgrade to a 256 GB sim card? That's twice as much storage as the other guys and approximately 32 hours of high-quality video. With that much space, you can document an entire road trip from New York to Chicago and back again!
How Our New Website Makes Your Life Better
If you're among the 82% of users who conduct online research before making a purchase decision, then you'll be thrilled about all of the new info on our website. Our M5 and M6 dash cam pages now include footage from those camera types alongside clean, detailed descriptions of each product feature.
Navigate seamlessly from product pages to their compatible accessories. Learn more about, not just the M6 dash cam, but our entire suite of products, including the R1 Rearview Mirror which can be installed in almost any vehicle… yes, even your DeLorean time machine can have one of our back-up cams!
Our hope is you will love our new site as much as we do whether you're a dealer or a customer researching which dash cam is best for you! Ultimately, our goal is to get you two to meet, so, if you're looking for a new dash cam, visit our find a dealer page today to schedule an appointment with one of our incredible partners!
---
Don't forget that you have the chance to win $500. Submit your dash cam footage to our #MyMomento contest today!